The ritual immersion bath
A mikveh is a central part of every synagogue. The water used for the ritual cleansing must be "living" water, meaning water from a natural source such as groundwater, spring water, or rainwater. There are certain rules and procedures determining how this water is added to the bath.
There are also traditional rules for both men and for women as to how and when the mikveh ritual should be carried out. This serves the purpose of ritual cleansing, in order to become – using a Yiddish term – kosher. Orthodox Jewish men are encouraged to visit the mikveh before each sabbath as well as before the Day of Atonement Yom Kippur. Women should visit the mikveh after menstruation, on the eve of their wedding day, and after giving birth. Additionally, Jews are required to take an immersion bath after coming into contact with a dead person because death is linked to uncleanness. A ritual cleansing known as "Kaschern" is also suggested for new dinnerware and porcelain.
There is no record of the mikveh in Roth until 1910. However, the structure was likely much older because it was replaced with a new building in 1916.
Click on the images for a larger version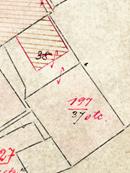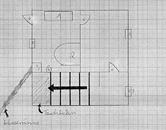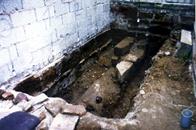 According to the testimonies of contemporaries, there was a pump, a kettle, and a bathtub in the small building. These are typical utensils for the pre-cleansing, carried out before going down several steps into the mikveh, where the actual ritual cleansing took place in a basin filled with groundwater.
In the summer of 1996, part of the foundations and the stairs to the immersion bath were uncovered  as part of an excavation project by the comprehensive school in Niederwalgern. This project was overseen by employees of the Landesamtes für Denkmalpflege (Hessian State Office for Monument Protection) in Marburg. For structural reasons they chose not to dig down to the groundwater table. The process was documented, and the excavation site was then refilled.